The Palace Museum Food Limited Edition Mooncake Gift Box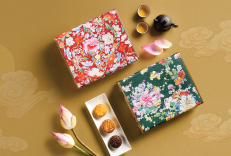 Sands Rewards members earn 118 points within designated period will be eligible to redeem one "The Palace Museum Food" Limited Edition Mooncake Gift Box. A choice of two exclusive gift boxes and three flavors in each – Mini Egg Custard Mooncake, Mini White Lotus Seed Paste Mooncake with Yolk and Mini Chocolate Custard Mooncake with no point deduction. Please contact Sands Rewards Counter for more details.
Design Inspiration
Blooming Box-Jintong
Inspired by the Famille Rose "Mille Fleur" Tianqiuping Qianlong Emperor
Blooming Box-Yuying
Inspired by the Chinese Fencai Enamel.
Promotion Period: From Now until 17 Sept 2019 (Tuesday) 05:59am
Designated Points Earning Period:
19 July 2019 (Tuesday) 6:00am – 30 July 2019 (Tuesday) 5:59 am
30 July 2019 (Tuesday) 6:00am – 27 August 2019 (Tuesday) 5:59 am
27 August 2019 (Tuesday) 6:00am – 17 Sept 2019 (Tuesday) 5:59 am
Redemption Location: Sands Rewards counters at Sands Casino, Venetian Casino, Himalaya Gaming and Pacifica Gaming at Sands Cotai Central and Parisian Gaming

Terms & Conditions apply.
For more information, please visit Sands Rewards counters or call +853 8118 1182
Persons under the age of 21 are not eligible to participate in game promotions and are prohibited by Macau law from entering any casino in Macau